The 2015 Minnesota Christian Ashram will be held on July 30th – August 2nd, 2015. The Ashram is returning to Saint John's University in Collegeville, Minnesota this year. The facilities are very comfortable for any number of participants; the food is excellent, and the fellowship is superb!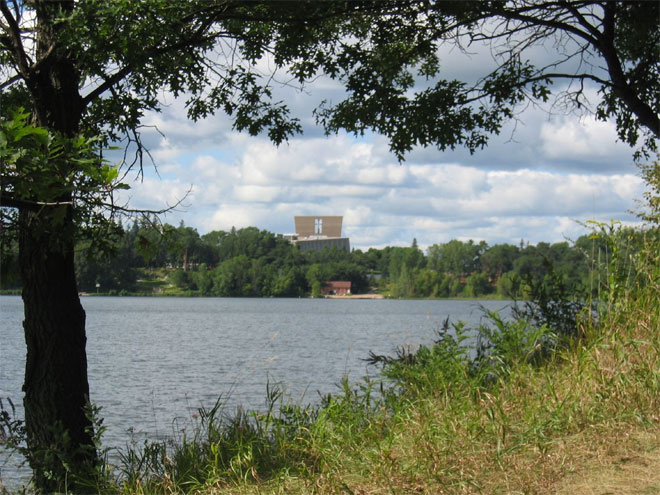 The Church and Bell Tower stand above the shores of Lake Sagatagan in the center of a 2,400 acre wooded campus
Some of the activities at the 2015 Ashram include:
Singing
Bible Teaching
Fellowship
Prayer Groups
Evangelist Teaching
Free Time Activities
Speakers And Leaders For The 2015 Ashram
The speakers for the 2015 Minnesota Christian Ashram have been confirmed, and we're excited and blessed to have such a wonderful evangelist and bible teacher! We know that we'll all receive some great inspired teaching this year! The speakers are:
Bible Teacher – Tom Albin:

Rev. Tom Albin serves as Executive Director for the United Christian Ashrams. In addition to these responsibilities, Tom also serves as the Dean of the Upper Room Ministries and Ecumenical Relations in Nashville, Tennessee. As of January 1, 2013, The Upper Room entered into an agreement with the United Christian Ashrams to provide executive leadership, marketing, and communication resources. Since 1999, Tom has worked directly with the General Secretary of the United Christian Ashrams as a part of his role at the United Methodist Board of Discipleship. Within the past two years he has participated in the Alabama, Minnesota, and North Louisiana Ashrams. Now the door has opened for us to work together to strengthen current Ashrams and develop new ways for people to experience the life transforming power of God.

Evangelist – Bruce Ough: Bruce Robert Ough was born in Williston, North Dakota, the oldest of four children. Charlene Feldner and Bruce were married on August 14, 1976. They have three sons: Lance (Cathie), Stuart (Christine) and Matthew and three grandsons. He attended North Dakota State University (B.A.), followed by two years as a school counselor on the Standing Rock Indian Reservation in the Dakotas. Bruce attended Garrett Evangelical Theological Seminary, receiving an M.Div. degree. During his seminary years, Bruce served one year as an associate pastor at Grace United Methodist Church in Chicago and interned one year with the Dakotas Area Program Staff. In addition, he has done graduate work at Northwestern University and completed the Upper Room's two-year Academy for Spiritual Formation.
Director – Judy Madsen: Judy Madsen, Director of the Minnesota Christian Ashram, is a retired elementary teacher from the Minneapolis Public Schools and became director in August, 2005. She and her husband John, their two sons, her parents, her siblings and their families have bee part of the Minnesota Christian Ashram since it began in 1985. Because the Ashram has been such a source of spiritual growth and refreshment for the entire family, Judy is grateful for that rich heritage and wants to share the experience with others.
Registration Information
To register head on over to our registration page or call Nancy Anderson at (612) 825-7851. You can also mail your registration information to our registrar Nancy. Please be sure to send in all of the same information asked for on the registration page.
Registration fees and room and board fees can be found on the registration page as well.